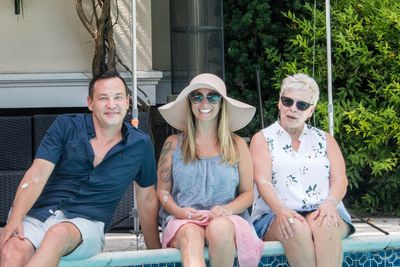 GI and flu symptoms
Nausea and Vomiting? Diarrhea? Dehydration? Cramps? Our skilled teams will have you feeling better in no time with fluids, Zofran, Pepcid and Toradol.
Hangovers
It is estimated that hangovers cost employers 148 billion annually in work loss and job performance
Headaches induced by hangovers are caused by dehydration
An East Coast IV infusion will address dehydration, nausea, inflammation and heart burn
Health and Beauty
Beauty from the inside out! Our weekly beauty regiment with IV Glutathione will have your skin hydrated and glowing! Add Biotin to your regiment (Vitamin B7 for stronger nails, hair and skin)
Migraine headaches
Every 10 Seconds, someone in the U.S goes to the ER for a migraine
The average price of an ER visit is $1,500
The average time spent in an ER is over 6 hours
East Coast IV will save you time and money by not making a trip to the ER
Bachelor/Bachelorette/Wedding Parties
Feel your best and keep the weekend going with East Coast IV
Group discounts!!! Free IV to the bachelor/bachelorette if over 5 IV's
Athletic events
Give yourself a competitive edge! An East Coast IV is great before or after a strenuous even. An East Coast IV will replenish fluids, electrolytes, essential vitamins and minerals.